Topic: Bamboo guitar stand
I am writing an Engineering project on a guitar stand. (at the OU Engineering Degree)
I propose that the steel stand can be changed for a material that has less of an impact on the environment.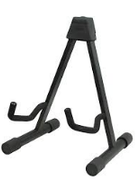 The questions are.
Would you buy a stand made of bamboo?
Would cost of stand be a factor in buying one? (cheaper one wins out)
What do you think of the guitar stand that you own?
Would the environmental angle be a contributing factor in your purchase of a stand?
Thanks for any feedback.