Topic: Dean Dime Razorback, Tanglewood TMO-7NC and more!
Hi,
Due to moving to uni soon I am having a massive clear out of everything.
I have for sale a Dean Dime Signature Razorback guitar in Slime Bumblebee finish. In great condition and plays wonderful.
http://www.gumtree.com/p/for-sale/dean- … 1023988694
Specifications:
Mahogany Top/Body
24-3/4" Scale
1-11/16" Nut
Set Mahogany V Neck
Rosewood Fingerboard
Pearl Dime Razor Inlays
Grover Tuners
Black Hardware
DBD Traction Knobs
Floyd Rose Special Bridge
Dimebucker / DMT Design Pickups
Hardshell Case Included
"Slime Bumblebee" Graphic
Looking for £400 o.n.o. Comes with a cracking solid hardcase with velvet interior.
Also selling a Tanglewood electro acoustic TMO-7NC
http://www.gumtree.com/p/for-sale/tangl … 1025137333
Marshall MG30FX. Great amp in lovely condition - £60. Due to weight it's collection only.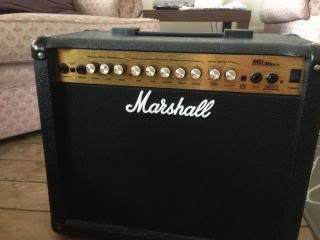 And a Metal Muff guitar distortion effects pedal. Good as new condition as never really used, still has original box. £35 with £5 p+p.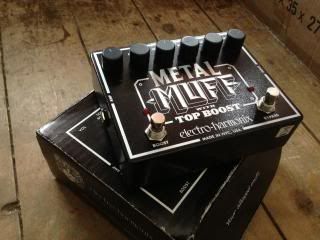 Also a lovely leather stitched guitar strap in near new condition, hardly ever used: £22 delivered.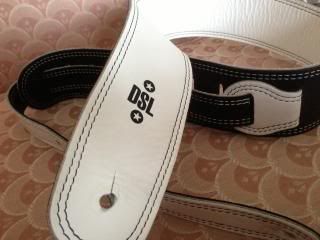 This reversible strap features white garment leather on one side, and black garment leather on the other; perfect for any kind of gig.
Even the DSL logo is double stamped in contrasting black and white. The interweave tail also features black and white reversible styling.
The entire strap is extra soft and comfortable full-grain garment quality leather. All leather is double stitched for extra strength.
A classic tough interweave tail is fitted for adjusting strap length. Buy online today and get two fine leather guitar straps for the price of one.
Product Features
Custom stitched on each side
2.5" width
Top colour: White or Black
Back colour: Black or White
Supplied with DSL leather pick holder key-ring
Adjustable length 100cm to 148cm as standard
Handmade in Australia.
And also a Korg Solo Tuner Chromatic CA-30. Practically new with no wear and tear. £9.50 delivered.
And a Korg Metronome MA-30. Also brand new, only taken out the box but never used more than once. £12.50 delivered.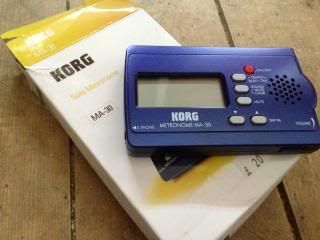 Phew think that's it for now. Feel free to get in touch.