Topic: Need help wiring a telecaster with push pull
I've recently started to get into putting a guitar together as a starter project. It's vary basic I've ordered all the parts pre made all I have to do is put them together. I've done everything now apart from putting the wiring harness in. I ordered a pre made harness and it's amazing quality and looks good too. The person who made it was vary kind and put in markers to show me where to soilder the pick-ups and the grounds. I'm vary happy for that.
I've chosen to go with these stacked single coils because they seemed pretty cool and I haven't seen ones like them before. Because of this the person put a push pull pot in the harness so I could have both coils on or just one coil on. The issue is that they didn't put a marker where I should soilder the third wire of the coils on the push pull. I know it should be simple and anyone would get it but I'm just lost. I didn't want to go back to the man because he already has done a lot and I think I'm on the point of annoying him and I'm a bit embarrassed that I haven't been able to work it out.
I've attached some pictures of the harness hopefully they can help see what I need to do it only let me do one so if you need more just ask and I'll send them your way. Again I'm new and not the smartest at this stuff so if you can dumb it down for me
[url]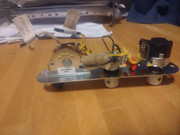 [/url]