Topic: London fella
I'm 31, have been noodling since I was 12 turning 13 years old.
Guitar is awesome.
I have awesome guitars, but guitar is awesome.
I'm from Denmark St/Greek Street in Soho/ & Thornton Heath out Croydon way, under Brixton and Streatham and Norbury or under Camberwell and Tulse Hill, West Norwood and Upper Norwood/Crystal Palace; Have been going to the UK's answer to Tin Pan Alley since I was 15, then years later I found Soho, and Soho's great, but Denmark Street, that's where I like to shop.
It's always handy to know a luthier, and in Croydon, we have one that should put Croydon on the map called Feline Guitars, I trust them with all my stuff, and if you want, they can build you a new guitar made out of quality parts with quality patents.
I use Bearstraps, who sell out of places I know up and down Denmark Street, and the gentleman who makes these straps, Rupert, makes very cool guitar straps by hand, makes his rounds up and down Denmark Street, I am so blessed with London's guitar culture (can find a lot of nice American guitars in London) and the straps I love, I thought were from California (because of its name)... Turns out it's British and the guy hand makes distributes these long thin leather guitar straps I love.
Shout out to RockBottom of Croydon and long live Gig Sounds of Tooting's memory (unless they're open again)?
My name's Robert.
This is MaCari's (Charring Cross Road location) in 2015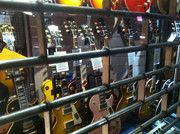 This is window shopping to me.
I haven't actually bought any guitars from here, since I've found or Gibsons have found me around the corner on Denmark Street.
The same branch of MaCari's that sells interesting used guitars once had me looking like I was made out of glue, had one of these;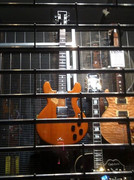 but it never had a price and I wasn't around during business hours for the longest time, but, week in, week out, passing through, I'd visit this too, while it was there... and... It was there long enough for me to get a SnapShot, but then it sold...
£8, 000.00 when I enquired later on looking at a 2015 Les Paul VOS, playing one there shy or a couple of hundred £ of it being in budget for the Gibson I was playing, but when I heard £8, 000.00 for that Travis Beam, I was kicking myself I didn't buy it, and honest to God...
(Even though I didn't then have £8k, I would have found a way)... The owner explained to me further adding it was that much 'I didn't mind the price' because it was the guitarist (he named him but IDK the members of The Clash, just their songs) but he named him and said it wa that much/£8k because it was the guitarist from The Clash. - That wasn't a selling point for me, I just wanted the Travis Beam, that connection to The Clash (I doubt it's ever been stage used and I haven't seen it yet in Clash video) was just a neat fact, but I'd have paid £8k for that if I had £8k for that with out it having anything to do with The Clash based on what it is and that being the first and so far only one I've seen.